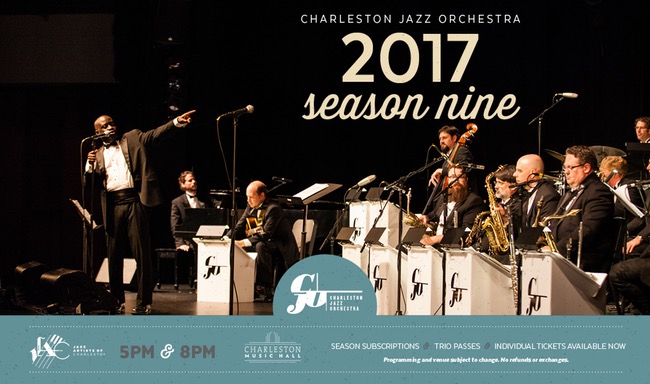 Saturday, September 16, 2017 - 5:00pm
Blue Note Records has produced some of most iconic jazz recordings ever. From John Coltrane to Cannonball Adderley, the label has been home to nearly every major jazz artist of each era. Names like Joe Henderson, Wayne Shorter, Art Blakey, Thelonious Monk, Horace Silver, Herbie Hancock, Sonny Rollins and Eric Dolphy have all graced the albums of Blue Note Records. As the premiere jazz label in the world, Blue Note recorded a variety of jazz styles from hard bop to avant-garde to free jazz. Additionally, the album cover art was as influential in the world of graphic design as the music was in the world of jazz. The CJO will perform favorites from Blue Note's legendary catalog and relive the jazz milestones that influenced so many.
Charleston Music Hall, 37 John St. Friday, 4 pm doors open, 5 pm show. Tickets will be given to club members in pairs. Space is limited, so let us know if you'd like to attend!
Please e-mail me (betsey@charlestonmag.com) by Wednesday, August 30 if you are interested in attending. Should club member interest exceed our number of available tickets, we will draw names for winners. For more info, click here.